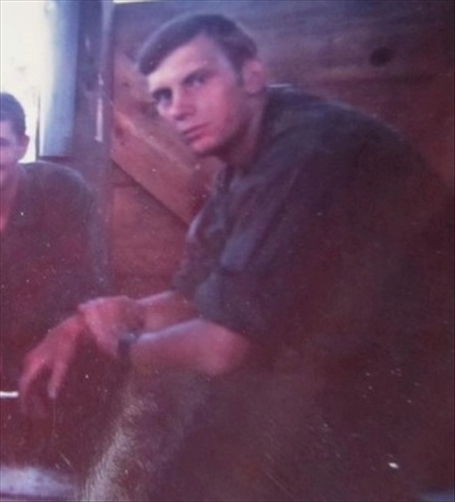 Ed was a brave soldier who stayed at his post even after being ordered to abandon his position. More about Ed Bishop here.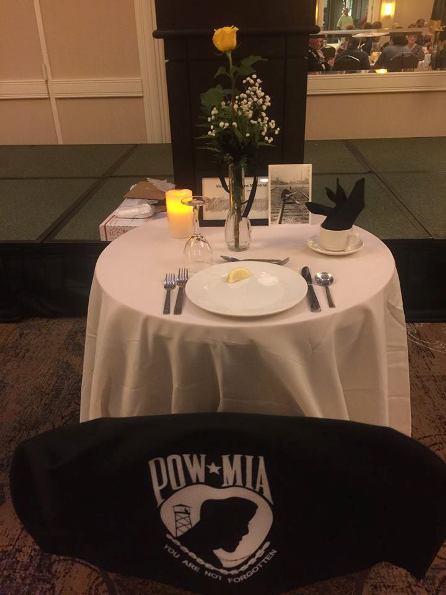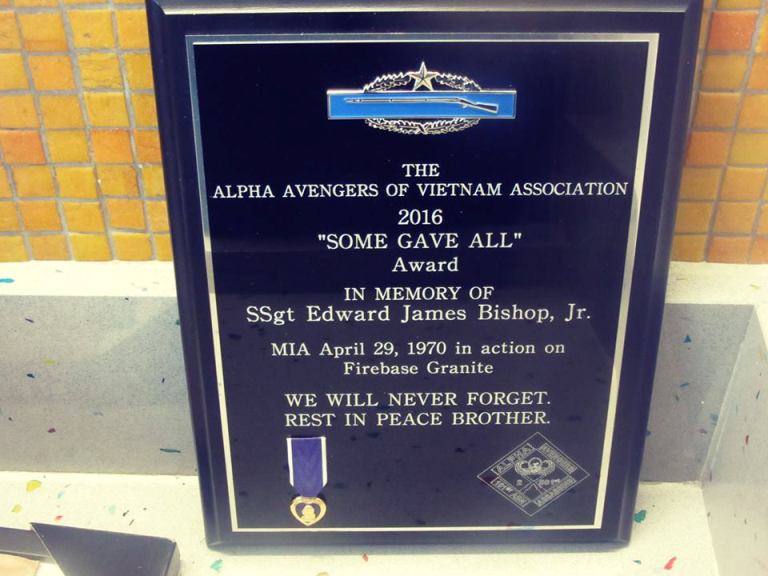 The SGA Award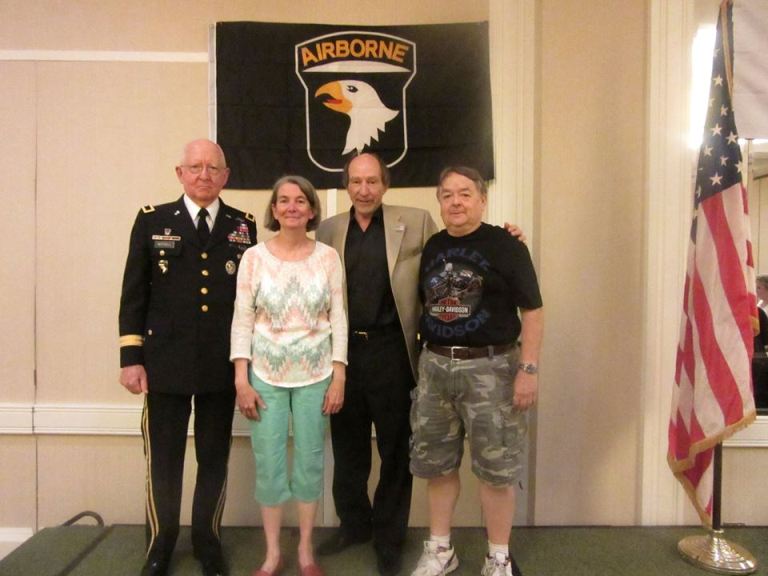 Ed Mitchell, Alicia Dellaripa, Ken Counts, Barth Cunico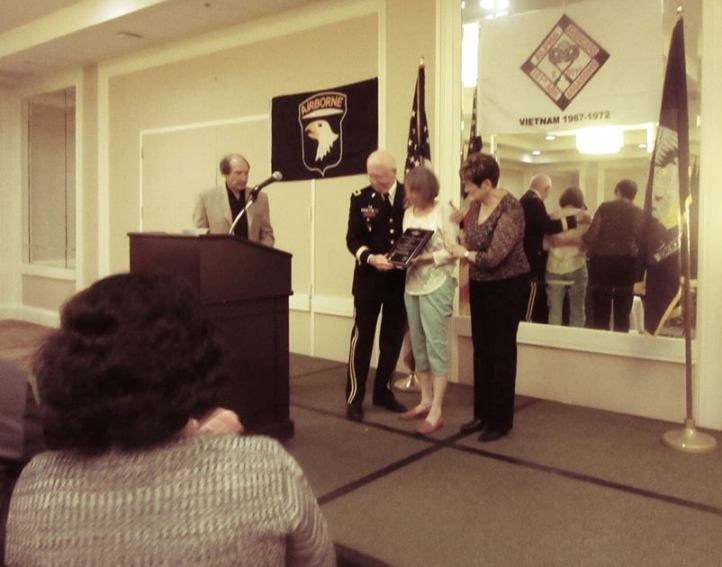 SGA Award presented to Alicia by Ed Mitchell. (Ken Counts on left, Mary Neligon Beaulieu on right)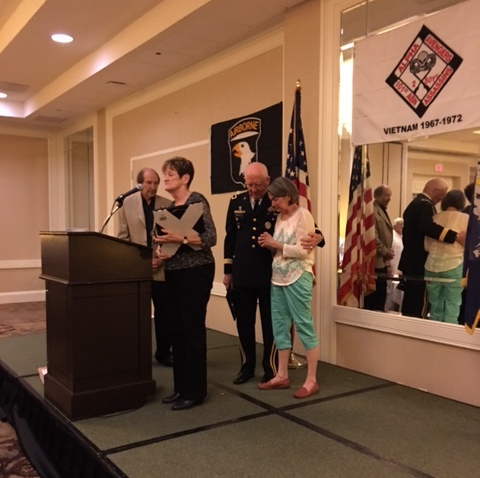 YouTube video here
SSGT Edward J. Bishop was born on 27 January 1948 in Hartford, CT. on 29 April 1970. He was drafted into the U.S. Army and after training was complete he began his tour of duty as a 22 year old Airborne qualified, 11B Infantryman assigned to Alpha Company, 2nd battalion, 501st Infantry Regiment, 101st Airborne Division. On April 29, 1970, then PFC Bishop was assigned as part of the security detachment protecting Fire Support Base Granite, which was located on a high plateau in the rugged jungle covered mountains approximately 9 miles northeast of the A Shau Valley, 16 miles west of Hue City and 34 miles southeast of Khe Sanh. The fire support base was also located 14 miles northeast of the South Vietnamese/Lao border, Thua Thien Province, South Vietnam.

At approximately 2200 hours, PFC Bishop was manning an artillery firing position with other soldiers at Fire Support Base Granite, when the firebase came under intense hostile enemy mortar and ground attack by North Vietnamese Army (NVA) troops throwing satchel charges and firing rocket propelled grenades (RPG) at American positions. During the NVA assault, the artillery firing position was severely hit by both types of ordnance.

The platoon leader, who had also been in the artillery firing position with PFC Bishop and others, last saw him firing at an enemy soldier to his front. As the platoon leader crawled away from the artillery position in the darkness, he looked back in time to see a large explosion and what appeared to be bodies flying through the air. The battle for control of Fire Support Base Granite raged throughout the night.

The next morning, the survivors initiated searches to locate the wounded, recover the dead and determine if anyone was missing. As the artillery firing position was examined, only parts of another soldier who was also known to be in the firing position at the time the platoon leader vacated it were recovered. After a complete search of the fire support base was completed, only one soldier, Edward Bishop, was not found either alive or dead. Because it was entirely possible PFC Bishop left that firing position before the explosion, Edward Bishop was listed Missing In Action at the time the formal search effort was terminated.

If Edward Bishop died in the fierce fight for control of Fire Support Base Granite, he has a right to have his remains returned to his family, friends and country if at all possible. However, if he survived the attack, there is every reality he could have been captured and removed from the battle site by the NVA involved in the attack. If so, his fate like that of other Americans who remain unaccounted for in Southeast Asia, could be quite different. PFC Bishop was reclassified as Killed In Action some years later. In the years that Bishop was listed as MIA, he was promoted to Staff Sergeant by time in grade.

Since the end of the Vietnam War well over 21,000 reports of American prisoners, missing and otherwise unaccounted for have been received by our government. Many of these reports document LIVE American Prisoners of War remaining captive throughout Southeast Asia TODAY. If there is only one man alive in Southeast Asia held against his will, we must do everything possible to bring them home.

American servicemen in Vietnam were called upon to operate in many dangerous circumstances both on and off duty, and they were prepared to be wounded, killed or captured. It probably never occurred to them that they could be abandoned by the country they so proudly served. Thank you SSGT Bishop for your service and your supreme sacrifice for our country.